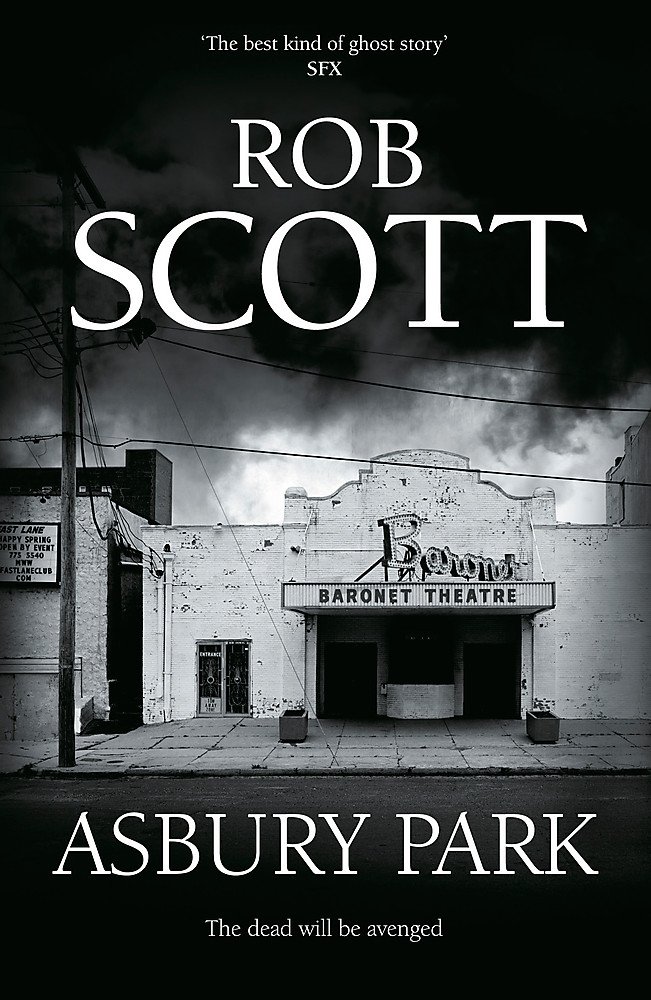 Welcome to Asbury Park, New Jersey . . .

Ten weeks after saving the eastern seaboard from a deadly plague pandemic, a suspended Sailor Doyle has retreated to the New Jersey coast. Building strength in his leg and shoulder, he hopes to reconcile with his wife and save his career.  Walking the beaches and boardwalks, Sailor's recovery is slowed when he intervenes in an attempted shooting at a local school, subduing the teenage gunman long enough for gang thugs to kill him.  Race riots, a media investigation, and a pushy New Jersey detective fail to distract Sailor from the gang tags, gargoyles, phantom calliope music, and burgeoning sense that something unexpected is about to unfold.

Seeking refuge at Spring Lake's venerable Warren & Monmouth Hotel, Sailor befriends Mark "Moses" Stillman, a former minor league baseball player. When a suicide victim crashes headlong through their shared breakfast table, Sailor fears that nothing is as it seems, including Moses and his mysterious past. Sliding pieces into place – a retired baseball player, an endangered Arctic bird, a string of Tahitian pearls – Sailor is drawn to the basement of a crystal meth lab, where homicidal street thugs are the least of his worries, and all clues point to October, 1975 when a young couple fell in love on the boardwalk in Asbury Park.  

Has Sailor been retained to solve unsolvable murders? Can a broken, suspended cop bring justice to victims half a lifetime later? And what secrets await Sailor as he encounters a tangled web of lies only the dead can unravel?  

Join Sailor Doyle on the streets of Asbury Park, New Jersey, where supernatural elements confound a current investigation with one thirty-five years old.
I try to run backwards through time. I can't. 
Twenty-seven years ago, around the time the first of my friends earned a driver's license, I spent the better part of a humid summer loitering on the beaches and boardwalks of Monmouth County, New Jersey. Granted, I'd been visiting Monmouth County all my life, but that summer the place was different: There were no parents, no obligatory hours beneath the family beach umbrella, no sand-crusted peanut-butter-and-jelly sandwiches. At sixteen, on our own, we were free to eat as much grilled farm animal, drink as much keg beer (not sure we ever found anyway), and chase as many women as we could before piling into my '79 Dodge for the weary drive home. 
As far as any of us were concerned, Belmar, New Jersey represented the epicenter of post-modern culture. Not Paris, not Rio de Janeiro, not even Bergen, Norway. 
Belmar Beach. 
The weekend crew who loaded into my truck were football players (American football; soccer hadn't been invented yet), baseball players, basketball players, even a few wrestlers. To a man, we hated running. Running, as the famous T-shirt claims was every other sport's punishment. Yet run we did, up and down the boardwalk from Spring Lake to Asbury Park like mule-kicked idiots searching for an all-water route to the West Indies. With temperatures in the nineties and humidity thick enough to gulp, we'd run from 10:30 in the morning until about 2:00 in the afternoon. 
Why? 
I'll tell you. 
Back then, Belmar attracted tens of thousands of eligible women every weekend. My friends and I held fast to the belief that the most attractive of them slept late, because they had been partying raucously through the wee hours. They woke around 10:00, laced up the nearest string bikini to hand, and hustled out for their morning constitutional. 
Did I mention the mule-kicked idiots bit? Right, that was us. 
The boardwalks from Spring Lake to Asbury Park ran with a flood of gorgeous young women: seventeen, trim, athletic, and toning up for autumn field hockey or volleyball. (Nope, no soccer for them either). They'd run in bikini tops and gym shorts, actually shine with a layer of sexy perspiration, and – about thirty percent of the time – willingly make eye contact with us as we jogged past. 
That summer, I probably ran two-hundred miles on that boardwalk just to have some sweaty, seventeen year old, who should have been wearing a T-shirt, make eye contact with me. 
Mule-kicked. 
And what did we wear? 
Monmouth County, New Jersey is home to Bruce Springsteen. E-Street runs through Belmar, and Asbury Park and the Stone Pony wait just a short jog north of 3 Brothers Pizza , the geographical Center of the Universe. In the early 1980s, our goal was to dress, act, mumble, walk, drive, eat, sleep, fart, and copulate exactly like Bruce Springsteen or perhaps Clarence Clemons, the coolest man on Earth. So what did we wear to run? A tragic combination of shirtless muscle, absurdly short, absurdly tight gym shorts – the blue or red version had the white piping – and a red bandanna rolled up and tied in Springsteenesque fashion around our foreheads. In our waistbands, we'd tuck a plastic juggernaut of a cassette player with a mixed tape of E-Street Band tunes pirated from FM radio. The headphones were foam-covered speakers; so every couple of weeks we'd have to buy another pair, because the sound got all crackly from too much sweat. Finally, like half the planet, we wore the same useless Nikes that Marty McFly sported when he traveled Back to the Future . They had all the ankle support of warm whipped cream. 
Sheer embarrassment alone should have killed us all. 
I'd wake at 6:00 am, pump iron to inflate my biceps, triceps, pecs, lats, delts, even sternocleidomastoids, whatever the hell those are, and then pray to God that I'd remain bulbously inflated through the afternoon's miles. I'd jog back and forth looking like a bee-sting victim, and attempt to make eye contact with every even remotely attractive teenage girl, because I honestly believed that eventually one of them would be so hormonally stricken by my sweaty bulk that she'd agree, optically mind you, to a thrilling, 24 seconds of sex in the sand behind the old Casino. 
It never happened. Two-hundred miles of running and not once did I end up in the sand. My friends and I would gorge ourselves on cholesta-burgers and drive home feeling as though we'd let Tom Waits and Bruce Springsteen down, that we'd failed in this ritual of masculine acceptance. Somewhere, randy sixteen-year-old guys were pulling women left-and-right from this river of glistening flesh, but it wasn't us. 
I never stopped to wonder why we didn't see forty year olds out jogging at noon. Only the shirtless morons and the bikini-clad debutantes ran at noon. To my sixteen-year-old self, forty year olds were ancient codgers who couldn't manage more than the brisk jog across Ocean Avenue, never mind seven sticky miles from Convention Hall to the old Essex & Sussex Hotel. 
Twenty-seven years later, I returned to Monmouth County, this time in a wimpy, suburban mini-van with decent gas mileage and a high side-impact rating. Somewhere, my 1979 Dodge had been crushed, melted, and probably turned into a Prius. I came back to New Jersey to research a new book, Asbury Park, about a ghost and baseball player and a hungover cop who find each other in the waning days of summer. In my years away, I'd been to Paris, to Rio de Janeiro, even to Bergen, Norway; so Belmar Beach didn't have quite the stranglehold on me that it had in 1984. Yet pining for the good old days, I conducted much of my research afoot, running through the streets and along the beaches I'd traversed as a kid. 
These days, I enjoy running. With about twelve-thousand miles in my log, I'm no Ryan Hall, but I like to get out a few times a week and still have friends who suffer through long runs with me on Sunday mornings or hill repeats on Wednesday afternoons. 
But I don't run at noon at the beach. Morons run at noon at the beach. 
I run at 5:30 in the morning, when the weather's cool. The sun rises over the water, and I have the boardwalk largely to myself. I wear knee-length shorts, a long-sleeved shirt, $130 in athletic footwear – I don't know that sneakers are sold any more – and an unattractive slathering of 50-SPF sunscreen, because I'm scared shitless that my pale, Irish skin might blister and end up puckered with Melanoma. I don't see any bikini-clad seventeen year olds at 5:30 in the morning, thank Christ. But I do tend to run into their mothers. A bit hippy now, after children and careers, they run with their graying hair pulled back, their iPod strapped to their arm, and their $200 Maui Jim sunglasses blocking out dangerous UV rays that bounce off the water. 
We don't make eye contact, ever. 
I think it's because when they see me coming now, twenty-seven years down the road, they wince and remember, and try not to laugh out loud. They avert their eyes, because they don't want to draw unnecessary attention to the handfuls of unshakeable flesh that have somehow (beer & donuts) gathered on my lower back, just above my waistband. 
If any of the forty-five year-old women on the beach at 5:30 in the morning were once seventeen and running in a bikini top at high noon, I hope they don't recognize me. At noon, I prefer walking on the boardwalk with my children. We watch the debutantes and the morons as they scurry up and down the planks like learning disabled yo-yos. I want to explain it all to my kids, to tell them how those exhausted-looking teenagers were once their father and his dopey friends, and how watching them is like watching Marty McFly travel Back to the Future . But they wouldn't understand. They'd just tell me to give it a rest and take them to 3 Brothers Pizza for a slice or two. It is the Center of the Universe after all.